Use Automatic Reports in Gainsight PX
Last updated
ATTENTION: Documentation Updates are in Process
We are in the process of updating the screenshots, GIFs, and content to match the latest UX based on the Horizon Experience's new look and feel. To learn more about the Horizon Experience in Gainsight PX, click
here.
​
​
This article describes how users can define daily or weekly automatically created reports to their email addresses. In the individual profile level, each user by default can see the email reports which is enabled automatically. You can control your sign up or adoption reports Daily or Weekly. Any bookmarked or saved reports that are being created, automatically shows up at My Profile > Email Reports tab.
In Audience Explorer > Filters tab, you can create your own set of criteria for each report or a list of reports. Not only that, you will be able to make any bookmark that you create the default view, so you can receive your favourite reports automatically daily or/and weekly through email.
You can use bookmark to keep a track of your reports (bookmarks are easy to add, delete, and rename) daily/weekly basis.
To create the customized bookmarks that contains Specific segment of users:
Navigate to Audience Explorer.
Apply a filter that you want reports of specific account or email.

In Filters tab, provide the following details in this example:

Users: You can use AND/OR logic.
Click +Add.
Select the Last Seen (as example) option and the desired operator (here it is 'Less than') from the given options available in the dropdown list and enter the value (editable field). Refer the following image.
Click +Add again to create another criteria as shown in the following image.

You can click +Add multiple times to add more criteria.

Click the Filter icon to navigate to Custom filters window.
Click Apply. This produces (keeping the AND/OR logic in mind) a list of accounts that match with the newly created filter criteria.

Click the Bookmark icon to bookmark the Report that you just segregated.

Clicking the Bookmark icon displays a window where, enter or provide desired name to the bookmark account.
Click Add.

Click the Filter icon [] in the Filters tab to add more custom filters as shown in the following image.
Navigate to My Profile. You can see the newly created bookmark account in the Email Report tab under the Custom bookmarks section.
Select Daily or Weekly or both as an email reports to show up in your inbox daily or/and once a week.
You can also subscribe to the following Analytics reports:
New Lead Report
User Signup Report
Adoption Report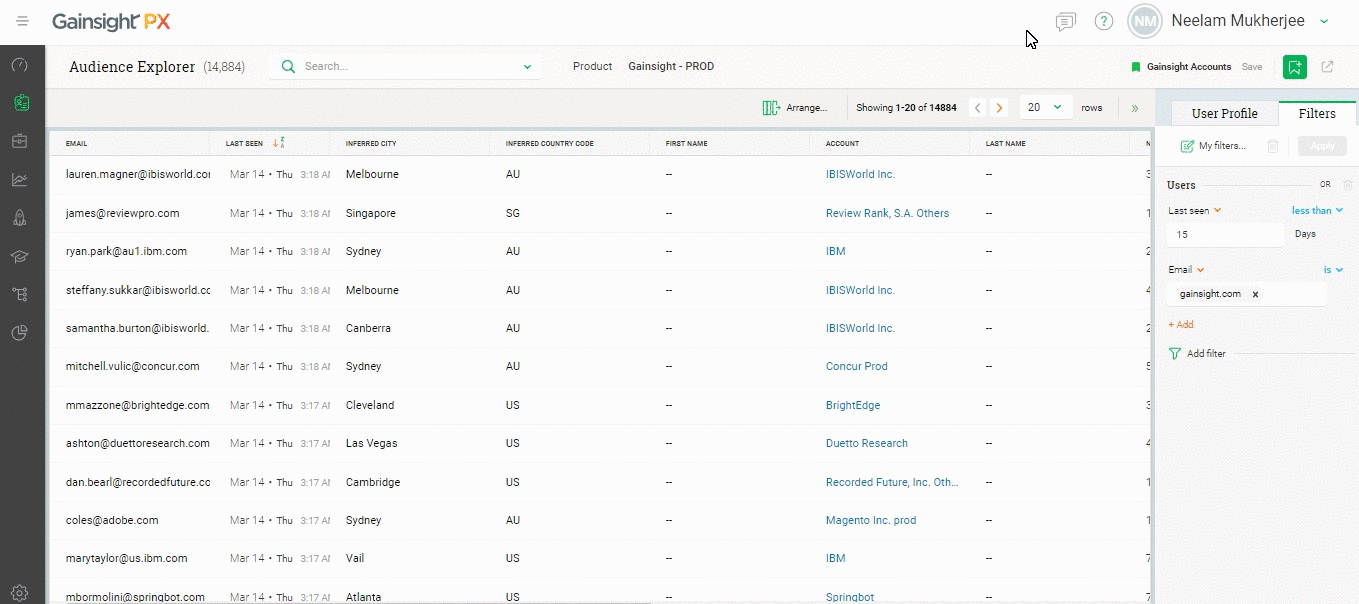 Click Save.
You can switch to different Bookmark and automatically you can see the filter applied and you can also see the users and accounts. You can easily rename, delete, or update a bookmark.