Gainsight offers the option to configure Surveys in languages other than English. Using Journey Orchestrator emails, you can send the survey in the desired language to a filtered set of contacts. Depending on what information you store on your contact record, such as preferred language, region, or country, you can use Power List criteria to send the survey in the desired language to contacts matching your criteria.
This tutorial explains how to configure your Journey Orchestrator Power List and Email template to send Surveys in languages other than English. This tutorial assumes you have configured the global language settings in Survey Permissions, created and published your survey in the Survey module, including providing translated questions/answer options in your desired language(s). Before using this tutorial, refer to the articles Assign Survey Permissions, Survey Dashboard & Card View, and Multilingual Surveys Overview for information on these prerequisite steps.
Configure Power List(s)
1. Create a Power List for each language that you wish to send the survey in.
2. Select the object to derive contacts from.
3. In the Power List criteria, add a field that will help you determine the appropriate/preferred language to send the survey in. This example uses the Account::Region, but you might use a preferred language field if it's available on your contact record, or Country. Add additional criteria as needed. For example, if you only want to send the survey to contacts whose accounts are in a particular stage, you could add Onboarding status, or Account Status, etc.
4. Add list fields that you want to replace dynamically (tokens) in the email template. Examples: contact first name, CSM/Owner name, etc.
5. Save.
Create/Edit Email Template

1. Enter the email subject, body, formatting, etc. Then click the Survey drop-down, to add your Survey as a link or button.
2. For Survey buttons, you can customize the button label in the Text field.
3. You will select the published Survey you wish to send when configuring your Outreach or the email step of a Program.
Survey Preview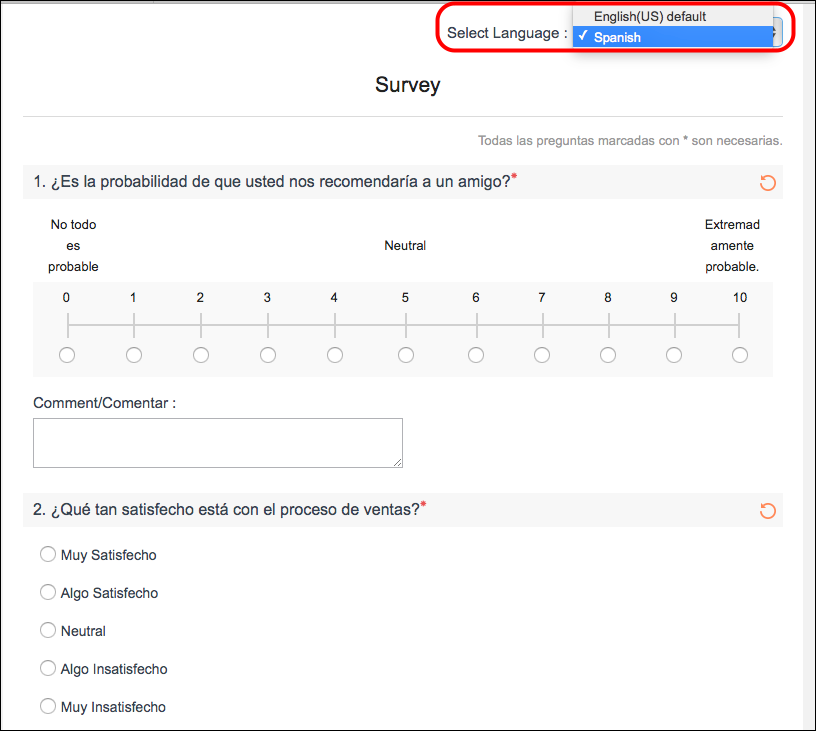 By default, the survey will open in the language you selected in step 3 above. However, recipients have the option to toggle to another language using the Select Language drop-down.
Proceed to configuring and scheduling your Outreach. For more information on how to send an Outreach with multiple language variants, please see the article Create and Send Multi-Variant Emails.