Sally - The Gainsight Bot Overview
Last updated
Gainsight NXT
This article supports Gainsight NXT, the next evolution of the Customer Success platform. If you are using Gainsight CS Salesforce Edition, you can find supporting documentation by visiting the home page, and selecting CS > Salesforce Edition.
Not sure what your team is using? Click here.
Overview
Gainsight introduces Sally, the Slack bot from Gainsight. With Gainsight Sally, your company can better collaborate through real-time customer insights within their favorite apps. Powered by AI, Sally makes rich Gainsight data easily accessible through simple conversation. Chatting with Sally is just like chatting with a real person and machine-learning technology helps Sally get smarter with each interaction.
Not only can Sally provide answers to a diverse set of questions about your customers, Sally can also update customer data, provide information on health scoring, current risks, and opportunities. Your company can quickly collaborate on the latest customer intelligence to more rapidly deliver customer outcomes across all parts of your organization.
In the future, Sally will be compatible with other channels and offer a greater range of functionality.
Prerequisites
You must have a valid Slack account.
Authorize Gainsight Sally to your Slack team. For more information, see Sally Administration.
How Gainsight Sally Works
The following animation gives you a short glimpse of how Gainsight Sally works in Slack. You can type a message to Sally and get the response in the message window.
Notes:
If you are a Gainsight user and you ask about my CTA, the response contains the summary of open Call To Actions assigned to you as shown in the following image.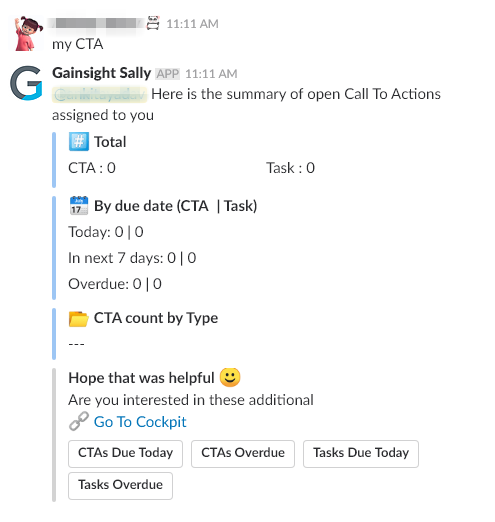 In case you are a non-Gainsight user, Sally does not provide my CTA related info.
As a Gainsight user, Sally displays the search results in multiple layouts whereas, for non-Gainsight users, Sally displays search results only in the default layout.
Sally Scopes
Scopes define the permission eco-system for apps created on Slack Platform. Sally, one of the Slack apps, requires access to the following three main scopes for a smooth functionality:
Conversations
Channels:read: By using this scope, Sally enables users to select and post information to a specific channel from the available list. This scope allows Sally to:

Get information about a channel

List all channels in a Slack team

Chat:bot:write: By using this scope, users can communicate with Sally in a channel. This scope allows Sally to:

Send a message to a channel

Update message

Incoming-webhook: This scope is used to send alert notifications to specific channels in Slack. For example, Survey Responses.
Interactivity
Bot: This scope helps users to interact with Sally bot to retrieve the required information.

Commands: This scope allows the users to create specific actions to a Slack message. For example, Post to Timeline, Create Activity etc.

Users:read: This scope is used to provide Sally access at the user-level, and also sends user centric personalized notifications. This scope also allows Sally to:

Gets information about a user

Lists all users in a Slack team

Users:read:email: This scope allows Sally to create the user-level mapping between Slack and Gainsight User object using Email Address.
Workspace Information
Team:read: This scope allows Sally to get information about Workspace name while Authorizing/Re-Authorizing a Workspace.
Suggested Reading
End-user article - This article talks about how end-users can use Sally in Slack.

Admin Configuration for Sally - This article explains in a procedure about how Administrators can configure Sally for your Slack team.

Sally FAQs - This article explains frequently asked questions about Sally.