Log Customer Emails as Timeline Activities
Last updated
Gainsight enables users to log customer communications as Timeline Activities using a unique inbound email address. Previously, CSMs had to copy and paste customer email content from their inbox to a Timeline activity. Now, using the unique inbound email address, CSMs can automatically log their customer emails to Timeline for accounts and relationships. This feature helps you record your history of significant interactions, so CSMs, Execs, and Sale reps, for example, can quickly get up to speed and understand the customer relationship by reviewing Timeline.

One of the benefits of using this feature is that you can use it with any email address (Outlook/Yahoo/Gmail/AOL!), as long as your Admin configures the relevant domain.

After Admins configure this feature and add you to the list of users with access to the feature, you will receive a welcome email as shown below.
This email contains a unique inbound email address which is automatically generated for each user.
For a short video introduction to this feature, click here!
Email to Timeline
High-Level Workflow Diagram
Send Email to Timeline
Perform the following steps to start logging emails to Gainsight Timeline using the email address that you received in the welcome email.
Open the welcome email that you received from your admin. This email contains a unique inbound email address.
Example: timeline+tope6ourfqtjomi371gejnqg1j@global.gainsightapp.com
Copy the email address from your welcome email.
Note: From the Timeline page, you can also click the Inbound Email Settings icon to view and copy the inbound email address. This icon will be visible only for those users who have access to the Email to Timeline feature.
For easy access, add your Email to Timeline address to the address book of your email program.
From your email inbox, you can send customer email communications to Timeline. Include the inbound email address in the BCC line when you are replying to a customer email.
Note: You may only send email to Timeline from an email address domain(s) (ex. Gmail.com) that's approved by your admin and configured in Gainsight. This ensures that your email is posted to Timeline Activity and Gainsight can validate the domain.
To: Internal (GS Users (Author)/Person) and External (Persons)
Bcc: The unique inbound email address
You can check details of a person record in the Person section of C360/R360 and through reports (company/relationship person).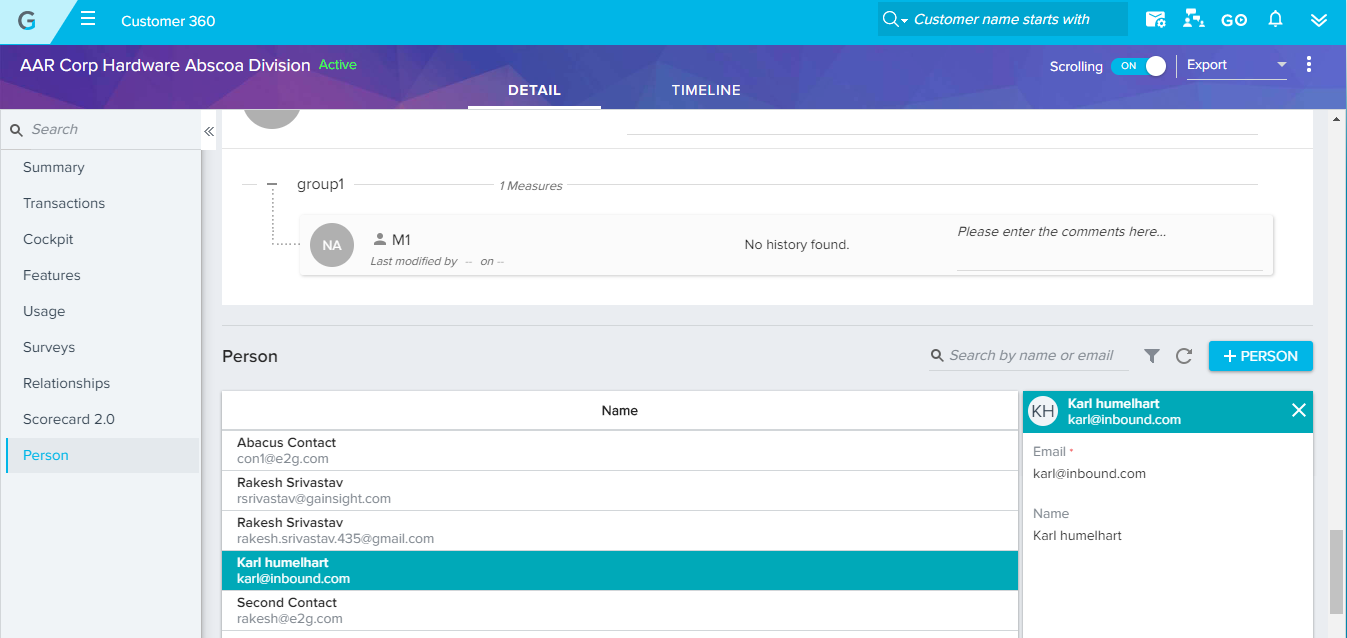 Navigate to C/R 360 > Timeline or Global Timeline tab. You can see your post in the list of activities as shown below.
Reasons Emails Are Logged as Drafts
Sometimes you may not find the post under the list of activities. In those cases, search in the Drafts area. You can use the filter to see only those drafts which were created through email integration. Then you can click the edit icon to make the required changes and save/log the activity. You may see your post listed under Drafts if any of the following scenarios apply:
Duplicate Persons are on the Company and Relationship records. Timeline post will be created for the Company.
Person exists in multiple accounts. Timeline post will be added to drafts.
One of the persons (email recipients) is tied to a relationship, but the other is only at the account. Timeline post will be at relationship level.
When there are no external attendees (Persons) present in 'To' email
When some email addresses which are not present in Person records are added in 'To' list
When Person records are associated with two different accounts/relationships, we are resolving it to any one of the contexts.
Note: Recipients image is not displayed for any activity created using this feature.
Reasons Emails are Rejected
Following are the reasons where emails are rejected and not logged as Activities or Drafts:
Users not found or found inactive.
Invalid Inbound Email address. Error may occur while copying the inbound email address.
Length check failed with the email content (should not exceed 30,000 character limit).
Exceeds the maximum number of inbound emails allowed which is 100,000 per day per tenant. If exceeded, activity posted via email will be rejected.
Email with file attachment(s) exceeding 20 MB will not be posted to Timeline.
Activities will not be created when sub-domains are not configured by your Admin.
If Tenant exceeds 5k draft limit.
If user's access to Email to Timeline has been revoked.
Best Practices
Gainsight recommends the following best practices while using this feature:
Always add the system generated unique inbound email address in Bcc, to ensure an extra layer of security.
End users must add the inbound email address as a contact in their email client.
Send an email to Timeline with the complete mail chain for the most complete record of the conversation.
Note: Ensure that the email content+attachment must not exceed 20MB.
Reach out to your admin in case you don't find the desired recipients' email addresses while sending email to Timeline.
Copy the unique email from the Inbound Email Settings page.
System Limitations
The maximum number of inbound emails allowed is 100,000 per day per tenant.
Total Email Content + Attachments size limit is 20MB, and each attachment's maximum supported size is 15MB.
Email to Timeline can create a maximum of 5k draft email activities per Tenant. After the limit is exceeded, Gainsight rejects the drafts.
If the person is present in both company and relationship, Gainsight resolves it to relationship and posts the activity to the respective relationship.
If no External attendees (Person) are included in To email, Gainsight saves the activity as a draft.
Limitations which are identified & Planned to be Addressed in Future Release
User receives an email notification about the status of their email. This is especially useful whenever the post to timeline fails or the post is added to drafts.
Audit Logs: There are various combinations where an email sent to Gainsight can be rejected by the system.Some of the possible failure reasons are:

Per day Tenant Limit of 100,000 inbound emails
Author Email and inbound email mismatch
Author email not available as an internal user in Gainsight User object

User has to scroll to the bottom of the page and save for every action performed (user added or deletion).
FAQs
Below are some questions about Email to Timeline feature functionality that you might often face. If you have a question that's not answered here or through related support articles, please email support@gainsight.com or post to Gainsight's Community.
What are some of the best practices that can be used while emailing to Timeline?
Refer to the Best Practices section in this article.

Why should I add the system generated email address in BCC while sending email to Timeline?
This is to ensure that the privacy of the system generated unique email addresses is protected in the original message. Using the BCC field acts as an anti-spam precaution.
The recipients will receive a copy of your message, but they will not be able to see the unique inbound email address listed in the BCC field.
If you forward the email that you sent to Timeline using the unique inbound email address, the address of the unique inbound email will be visible in the email message.
If I receive a response for an email that has already been logged in Timeline, will the newest email get added in the existing Timeline Activity?
No. When you send an email to Timeline, the email (content and attachment) will be posted on Activity Timeline and it will no longer be connected to the email thread that you sent to Timeline. You may need to send the latest email again to Timeline using the same inbound email address, but it will be posted as a separate activity or saved as draft.

I cannot see the recipient email address in the To list, how can I check or get it added?
You can check the person record from C360 (of a specific customer page to which this person is associated with) > Person section. When the Person associated with a specific Company or Relationship respectively.
Can I send email to Timeline adding the unique inbound email address in To or CC?
Yes, but it's not recommended. See #2 above.

Will attachments be visible in Activity Timeline?
Yes. Refer the following image to see the attachment along with the size.
What if I don't see the recipients to be added in the activity?
If you do not find the desired internal or external recipients while editing any draft or posted activity, contact your Gainsight Administrator to get them added.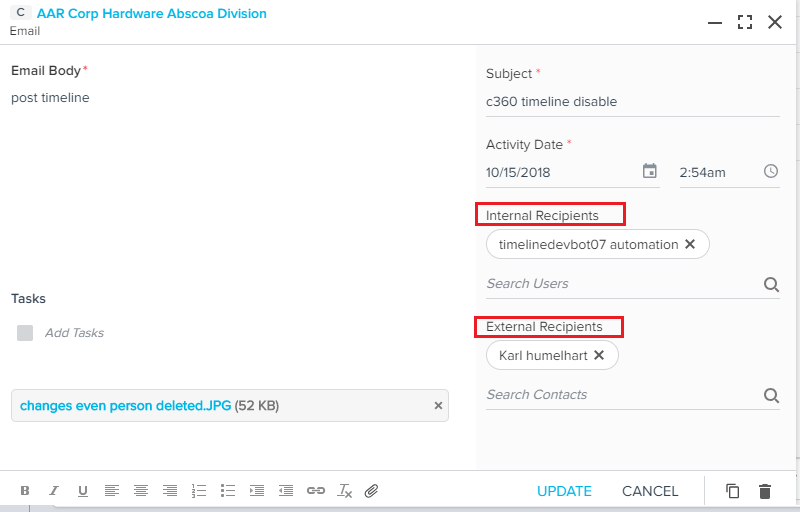 How can I change the Relationship or Account that is associated with the activity?
No, you cannot change.

Can I send email to Timeline using any email address (eg. personal email)?
Yes, provided the domain of your personal email address is already included under the list of Acceptable Domains and approved by the system. Please check with your Admin if you're unsure whether a domain is configured and approved.

Should I send the first email or the entire email thread to Timeline using this feature?
It is always good to send an email to Timeline that has the complete mail chain for the most complete record of the conversation.
Note: Ensure that the email content+attachment must not exceed 20MB.

Is it ok if I use someone else's email address to send emails to Timeline?
No. This is a unique inbound email addresses generated for each user individually. Gainsight recommends you not to share this email address with anyone else and not use someone else's.