Scorecard Habits Report
Last updated
Gainsight NXT
This article supports Gainsight NXT, the next evolution of the Customer Success platform. If you are using Gainsight CS Salesforce Edition, you can find supporting documentation by visiting the home page, and selecting CS > Salesforce Edition.
Not sure what your team is using? Click here.
This article explains how to create a Scorecard habits report. A Habits Report allows you to review your customer's health scores. This report displays the trends with reference to your configured grading scheme. To create this report, select either Account Scorecard History or Relationship Scorecard History as your source object, depending on whether you use Relationships in your org.
IMPORTANT: While creating this report, add a filter named "Scorecard Name" and select a scorecard.
Note: Starting with the 6.22 release, early access to new options for scorecard reports and dashboards, called Scorecard Widgets, will be rolled-out in phases to the existing Horizon Analytics preview phase participants. Scorecard Widgets have enhanced capabilities and tools designed specifically for scorecard data. For more information on Scorecard Widgets or Horizon Analytics, refer to Scorecard Widgets Overview or Horizon Analytics, respectively.
To create a Habits Report:
Navigate to Administration > Report Builder.
Click + REPORT. The Report Builder page opens in a new tab.
Enter a name for the report.
Select either Account Scorecard History or Relationship Scorecard History as the source object.
Select Scorecard Habits from the Report Type drop-down menu.

When you select the Habits report, the following fields are selected by default

Show me: Count of company Id.
By: Snapshot Date and Overall Score.
Filter: Results are filtered to display any one scorecard.

Notes:

You can add or delete the fields as required.
It is mandatory to include either the Overall Score or an individual Measure field in the By section.
Add the following filters:

Scorecard Name = Select a scorecard from your org.
Snapshot Date = Current Quarter
Score does not equal Null.

Click APPLY.
Click RUN. The report is displayed as shown below.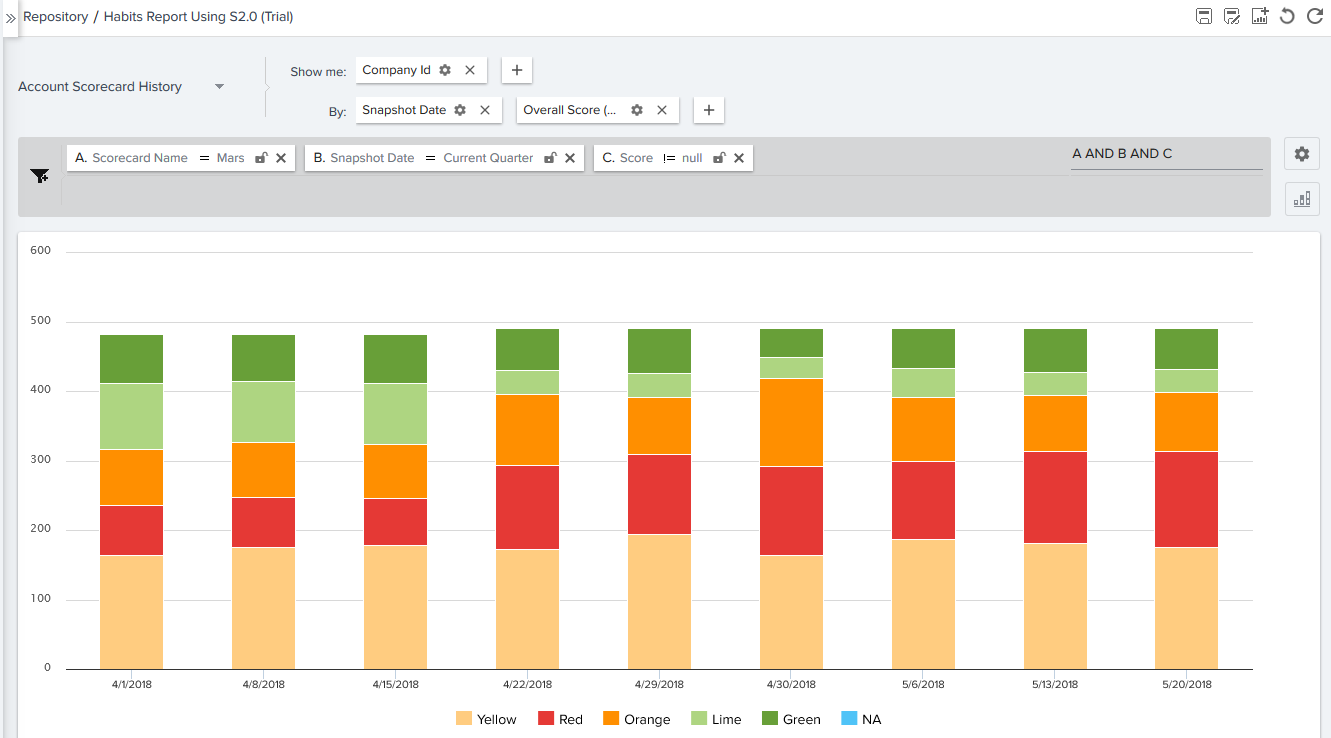 Auto Grouping of Scorecards in Filters
When you filter Scorecards in a Habits report, you can see that all the Scorecards are grouped according to their Scoring scheme. This is a unique feature in Habits report.
Limitations
Currently, Gainsight does not support Heat map and Packed bubble visualizations in Habits report.