PX Release Notes June 2022
Last updated
Version 3.6.0, June 27, 2022
List of Features

: This symbol indicates that an enhancement originated as a customer suggestion on the Gainsight Community.
Announcements
Search and Sort Capability for List Views
The list view pages of the Analytics and User Management sections have now been enhanced with the capability to search and sort the columns. These usability enhancements help to find the required reports and users easily. With this release, the Funnel, Retention and Path Analyzer reports are enhanced. This will be extended to all the analytics features and other list view pages in the upcoming releases.
Auto Complete Capability in PX Search Fields
The search fields in PX are now enhanced with auto-complete capability. This helps in the quick find of recently used search terms.
Enhancements
Analytics
PX Analytics helps you to keep your finger on the pulse of product adoption and user satisfaction. You can monitor the metrics that matter to you with custom dashboards, discover which features drive retention within each customer segment and user cohort, map and track customer adoption goals, analyze trends by customer segment, and more.
Enhanced Report Capabilities
You can now clone and archive Gainsight PX reports easily. In addition to this, the Reports section has been enhanced with the following capabilities:
Share reports as public, private, or with specific users
Create any report from the Reports Home as well
View reports related information in the reports list view
Search for the reports by report names
Filter reports by report types and created date
Sort the reports by date periods
View Summary Widget with KPIs in the In App Performance Report
A comprehensive summary widget is now available in the top section of the In App Performance report. This helps to view the different metrics such as engagement Views, Unique Views, CTA, number of completed engagements, Completion Rate, and CTA/Unique Views. The new capability to filter and group the details helps users to slice and dice the data to view better insights.
Create Funnels with Engagement Events
You can now create Funnels with engagement event steps to understand the impact of engagements in the user journey/session through key events in your product.
Example Business Use Case:
Consider that you have created a Guide engagement to help the user understand a new feature. You can now analyze if the user was able to complete the journey through the new feature as intended, after viewing the engagement.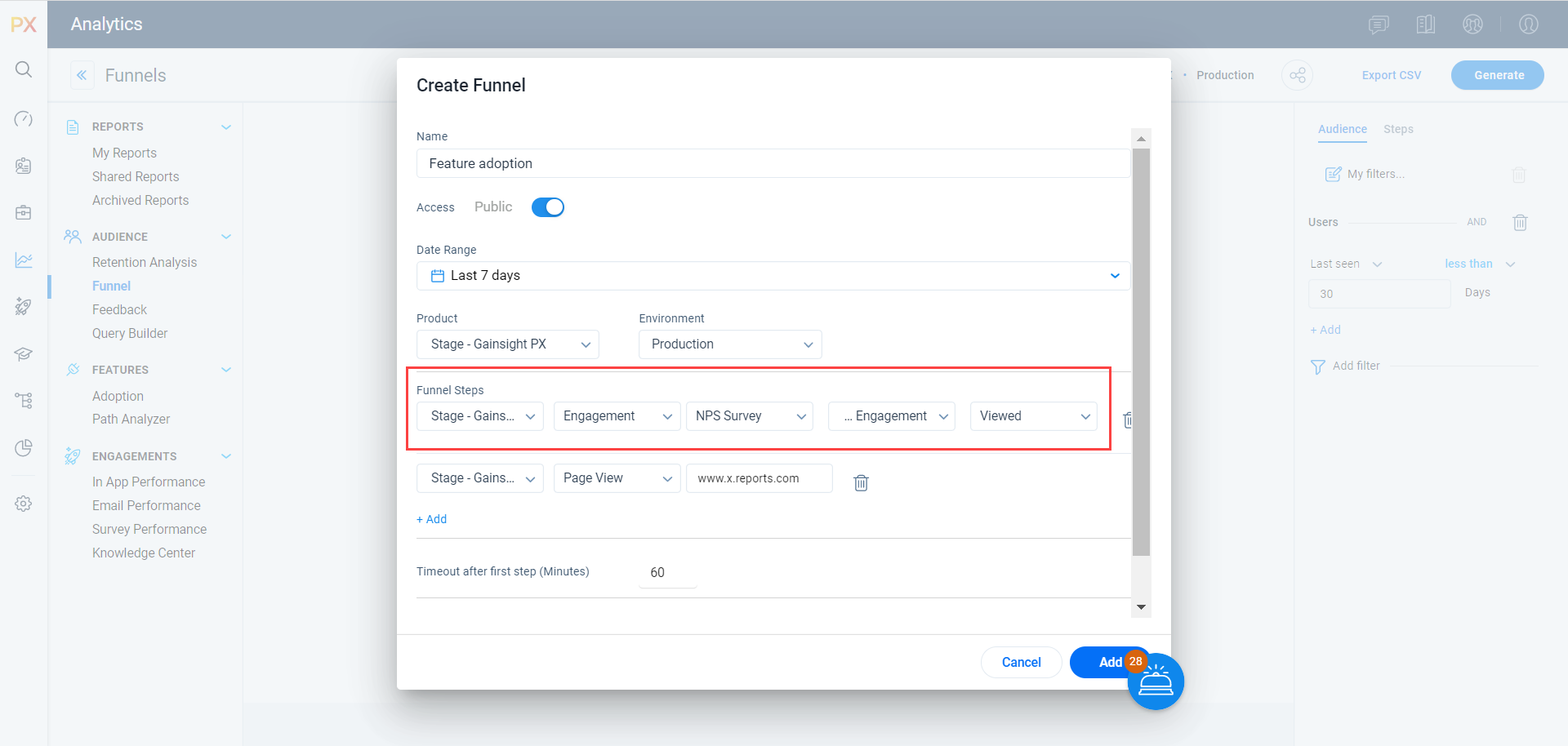 Improved Events Label in Query Builder
The Query Builder event labels now display pre-fixes for the selected attribute in the query's where condition. These pre-fixes are followed by a space and the values before the selected event name. Prior to this release, the auto-generated event labels in Query Builder were the same for varying where conditions that did not give a clear representation in the graphs or data rows.
Engagements
Engagements are the communications that are executed through product (in-app) or emails for a specific audience at a specific time. These communications can be interactive in nature which helps you to share information, receive feedback, and engage customers with your product. The overall goal of using engagements is to increase your customer's product usage.
Capability to Select Cross-Product Engagement Audience
Gainsight PX now lets you launch an engagement in a cetain product based on feature or module usage in another product.
To select cross-product engagement Audience, configure the Product Mapper audience rule.
Example Business Use Case:
Consider that a company has two products A and B. You can launch a Guide engagement for a cohort of users in product A based on a specific feature adoption in Product B. In the image below, the Guide engagement is launched in Product A for those users who have used the Archive > Event Rule feature in Product B (Aptrinsic) for 10 times.
Note: This enhancement is not available for Email Engagements.
Specify a Date Range for Survey Audience Rules
The Survey audience rules now have a date filter that lets you further drill down the target audience for an engagement.
Note: The data for the date filter drop down is available from May 12th 2022 onwards.
Example Business Use case:
You can configure and launch an engagement for users who have responded with a four-star rating, between first June and fourth June 2022, to a Rating Survey.
Knowledge Center Bot
Knowledge Center Bot is an onboarding assistant that guides users in learning your product. The bot contains links to engagements and external URLs in order to effectively onboard new users, as well as educate existing users. Optionally, you can also integrate your knowledge base (eg. Zendesk or Mindtouch) content to display in the bot.
Create User/Account Rules for Content Recommendation
The KC Bot Recommendations rules now support Users and Account attributes. These attributes help you create more contextual content based on your user or account personas.
Example Business Use Case:
Consider that you want to share a set of user guides with the Customer Success Managers (CSMs) in one of your accounts. You can now build the content recommendation in KC Bot using the user attribute that allows you to select the users with CSM roles (within a certain account).
Auto-Alignment of Bot on Repositioning
The KC Bot can now open to the right alignment based on its position on the screen. The Bot checks for the maximum available space and opens in the most optimal location. Gainsight PX also stores the last seen location of the Bot in local cache. This helps you find the Bot in the location where you left during your previous session, until the cache is deleted.
Product Mapper
Product Mapper helps in describing your product features with a simple "point, click, and describe." Each mapped feature can be viewed hierarchically within your Product Feature Tree.
View Full Path of Product Tree Features in Search Results
You can now view the full path of feature/module names in the search results dropdown list in Product Mapper. This helps to select the right feature or modules, especially in scenarios where there are similar feature names within different modules.