Quick Insights in Slack Using Sally
Last updated
Gainsight NXT
This article supports Gainsight NXT, the next evolution of the Customer Success platform. If you are using Gainsight CS Salesforce Edition, you can find supporting documentation by visiting the home page, and selecting CS > Salesforce Edition.
Not sure what your team is using? Click here.
IMPORTANT - Articles Impacted due to 6.34 October NXT Release
Due to the v6.34 October, 2022 release, this article has been impacted. Steps, images, and playable GIFs in this article will soon be updated to reflect the latest changes.
For more information about the latest UI changes, click here.
In this article, you will learn about how your company can access real-time customer insights within Slack using the Sally AI bot.
Introduction
The Quick Insights feature takes this ability further and makes rich Gainsight data easily accessible to Sally users.
Gainsight introduces the Quick Insights feature which helps users access more specific information by simply typing Quick Insight in the chat window as shown in the following images.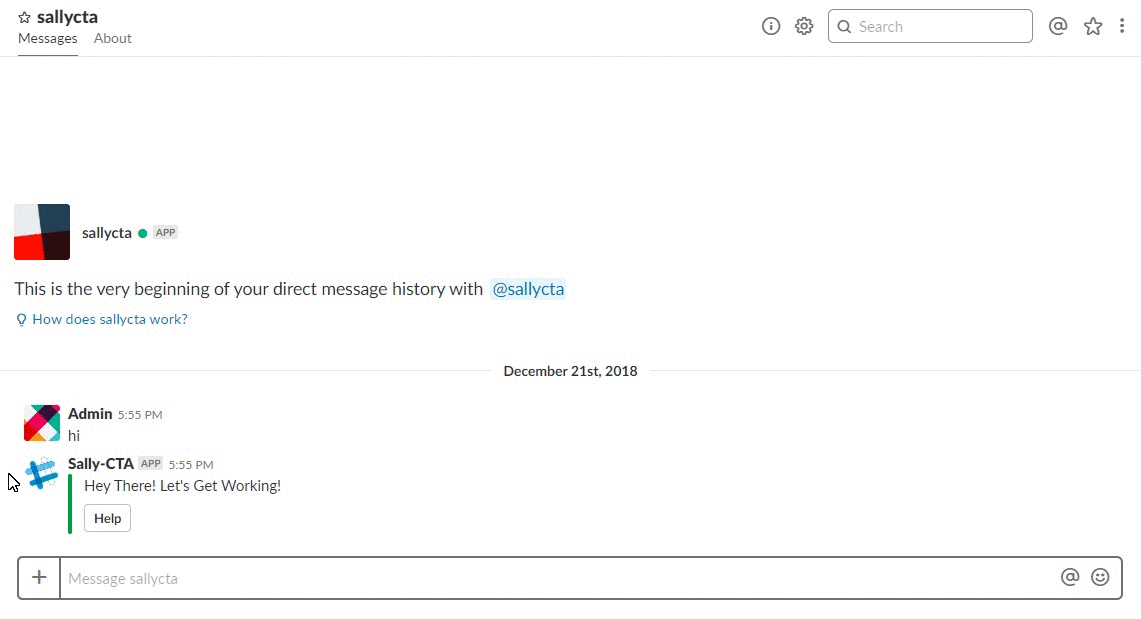 The following diagram explains a scenario where you remember the insight name and directly enter it in the Sally command window.
Example: Quick Insights > Choose a Quick Insight to view data.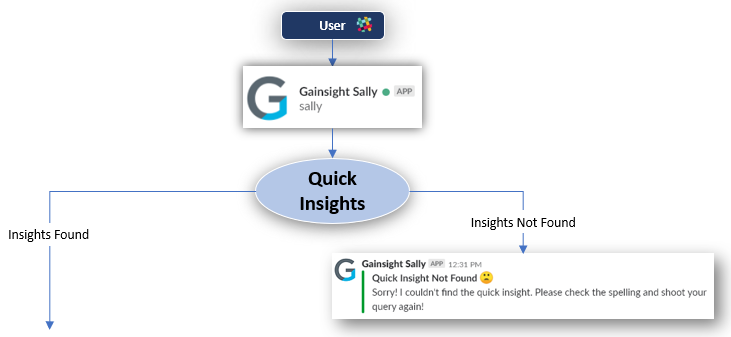 Quick Insight
The Quick Insights feature is a powerful way of giving access to rich data insights to end-users from Sally. It is essentially a report tailored to the presentation requirements and constraints of Sally channels like Slack. Admins enable end-users to use Quick Insights from Sally for richer data access than possible today. For example, users can ask Show the list of high priority cases from high risk (low health score) companies. To bridge that gap, Gainsight introduces the Quick Insights feature which helps users access the specific information just by typing 'Quick Insights' in the chat window.
Use Quick Insights
Perform the following steps to use Quick Insights:
Type 'Quick Insights' in the chat window as shown in the following image.
Click Enter. The Report Name dropdown option appears.

From the dropdown list, select a Report Name.
Note: The options available in the above-mentioned dropdown list are marked as a Quick Insight by the Admins from the Administration > Report Builder page. For more information, refer to the Mark Reports as Quick Insights article.

Click Enter to see the response to the insights in the threads.
Note: In Slack, all the tabular reports can be downloaded in excel format and the remaining chart reports are available in image format.
IMPORTANT: The responses for all the Quick Insights actions from Slack can be viewed directly in the threads.