View Shared 360 (For End Users)
Last updated
This article explains how end-users can view the Share360 (in read-only mode) page using a link sent from the CSM/AM. This feature provides a quick snapshot of the customer's key information. Share360 is visible as a web page with optional security settings, and does not require a Gainsight license to view.
Admins configure Share360 which contains the Summary, Company Attributes, Related List reports, Relationships and Person sections.
Purpose
With the Share360 feature, you can:
Stay aligned with your partner or vendor on a single source of information.
Coordinate and prioritize the actions around a unified understanding of health.
Access information (view only mode) outside of the Gainsight application through a web page.
Limitations
Share360 feature has some restrictions. In general, Share360 is a read-only version of Summary, Attributes, Related Lists (Reports), and Relationships. The following table lists the limitations/restrictions.
Item

Limitation

One Time Password (OTP)
End users can request the OTP, a maximum of 3 times.

If the OTP is expired, end-users need to send a request to the person who shared the link for a new OTP.
Share layout
The Share360 link cannot be shared by end users with anyone.
View Share360
When the 360 view is shared, a notification is sent to the recipient email address. The email notification may include a link expiration date and OTP verification. Perform the following steps to access the Share360 page:
Click Click here to view in the email notification. This will display the One Time Password Verification screen in a new tab (see the image shown after step 2.)
Note: Owner of this 360 page can modify the shared active links, revoke access, and perform actions to manage the Share360 page. When you click Click here to view, to access a link that has been revoked, expired, or has invalid OTP access, the following message will be displayed in the other tab: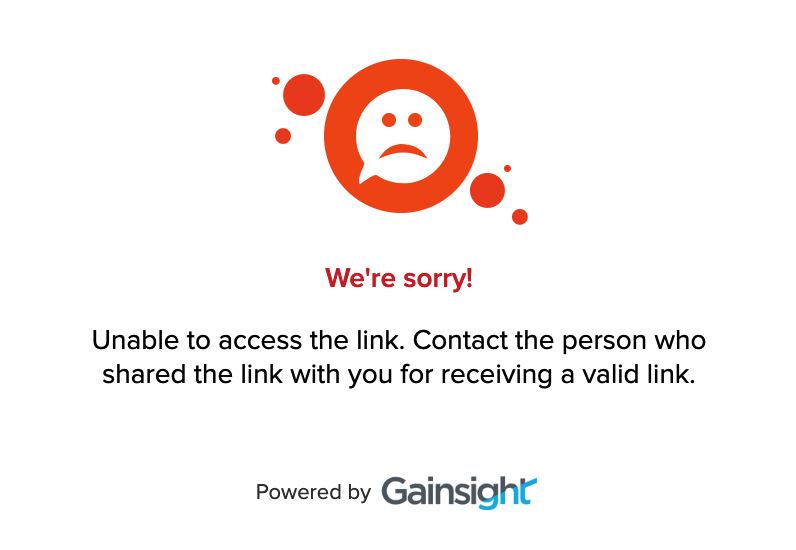 If you encounter this message, you should contact the person (CSM/AM) who shared the link with you.
Click SEND to request an OTP to be sent to the registered email id.

Check your email inbox. You should have received an email that contains OTP.
IMPORTANT: This OTP is time sensitive and will expire in case of repeated unsuccessful attempts. Reinitiate the access request if the OTP is expired.
Enter the OTP to access the link.
Notes:
If you do not receive the OTP, click RESEND.
The OTP is valid for 5 minutes. If it expires, the users should send a request to the CSM/AM to share the 360 page again.
Click VALIDATE. You can view the Share360 page (read-only mode) that opens in the new tab.
If you have questions or feedback about the feature explained in this article, please share them on community.gainsight.com.